1997.May

1997
variable dimentions
air extractors, satin, sneakers, 2 doors, motion detector , walkman, speakers, motorized projector (JBSystems Techno).
made for Jamba, Sala do Veado, Museu Nacional de História Natural, Lisbon
Heaven's Gate 1997 Heaven's Gate was made as a reaction to the mass suicide of the Heaven's Gate cult members in the Santa Fe Ranch, San Diego, California, on March 26th, 1997.
The members believed they would take a ride on a spaceship that was coming right behind the passing-by Hale-Bopp comet. The spaceship would transport them into another planet.
The bodies were found with ready-to-go packed luggage. But what intrigued me was that all the corpses were covered with sheets of purple satin fabric, and were wearing the same model of Nike sneakers (the "Just do it!" brand).
In the Heaven's Gate installation, I tried to re-create the moment in which the bodies are teleported to the spaceship. Two air extractors with motion detectors give the effect of disappearing bodies by inflating and de-inflating the two satin sheets. Due to the East Timor issues, Portugal was not importing "Made in Indonesia" products at the time, so I was not able to get the Nike sneakers. Instead, I bought two pairs made in the north of Portugal, that imitated Adidas (the stripes) and with a puma printed i n the back. Two light-gray doors (gates) were used as beds.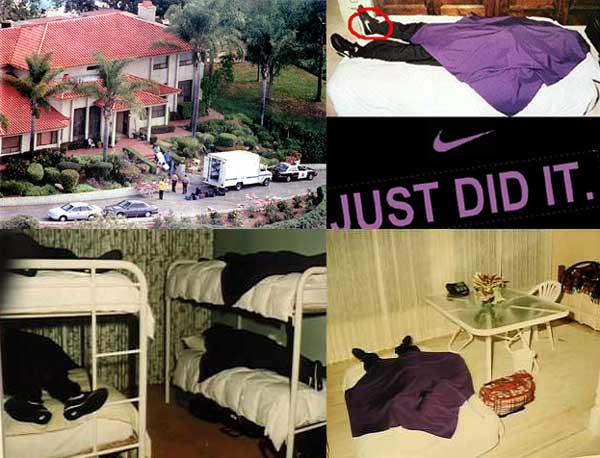 Heaven's Gate cult, Santa Fe Ranch, San Diego. Dead cult members and an image found on the internet.
OTHER VERSIONS of Heaven's Gate were made:
1998 >version 2 at Heaven's Gate – Project Room, ARCO'98, Parque Ferial Juan Carlos I, Madrid
2001 > version 3 at 321m2, CAPC, Coimbra, Portugal